Received message : "Uh oh! Please fill up beneficiary missing information to proceed with transfer" however unable to save the missing information.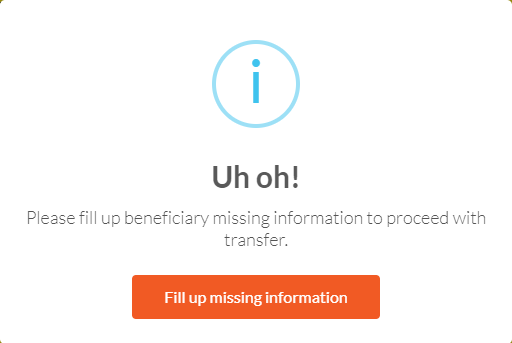 Due to a system upgrade, some older beneficiaries created from 2017-2019 are no longer valid due to invalid information.

Solution : The quickest way to resolve this issue is to recreate the beneficiary details with the up-to-date information.

If you require more details on the information previously saved for the older disabled beneficiaries, kindly email us at customer.support@moneymatch.co or Submit a Request and our customer support team will assist further!

We apologize for this inconvenience! Our team is working to come up with a more user-friendly interface to allow users to update the affected fields individually instead of having to recreate the whole beneficiary; however in the interim we can only process transactions to beneficiaries with the correct up-to-date information. If your transaction is urgent, we urge you to create a new beneficiary with the correct up-to-date information.